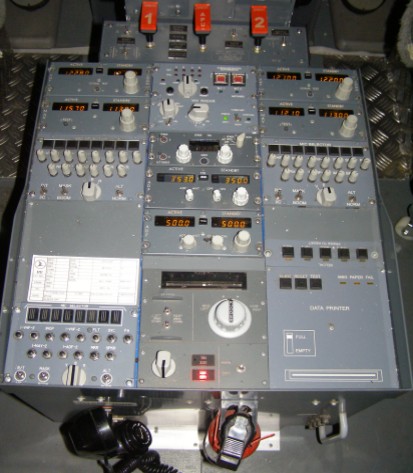 This is the finished article. Since getting the Aluminium Pedestal first week of December 2006, i have spent the time, wiring up and building the units into the pedestal. The photo doesn't do it justice-you have to see it.
BOEING Style Knobs came from Dieter Jakob at ROUTECH in Romania
Everybody has to start somewhere, so here's a couple of shots of my original Pedestal with a home made fire panel.
The 'Real' Pedestal itself was sourced from LAUSITZ AVIATION. I just can't tell you how high quality it is. I am so pleased with it. It's a full aluminium construction both rivetted and welded for extra strength. The 3 bays are each 145mm wide with a dividing wall and an aluminium support lip each side the bay for you to drill and tap into for fixing your panels.
I Started by drilling and tapping for 4mm bolts, but i found that no two company's panels were made with consistent fixing holes, so i have ended up using Stainless Steel 'Self-Tapping' Screws - Nice.

Radios These have been supplied by Mark at FLIGHT ILLUSION. They are faithful replicas of the GABLES units used in the 737NG. I have installed the COM1 and COM2 VHF units, the NAV1 and NAV2 units and the ADF as ADF 2. These units are connected to a small control board which itself is USB2.0. it also needs a 5 and 12v d.c. supply and is conveniently fitted with a Molex Socket so you can plug a PC ATX Power Supply into it. Simply load the drivers and the setup program and you are ready to configure. From turning on your PC to actually setting the radios in FS took me 15 mins - EASY PEASY :o) They are self 'backlighting' so that's another problem we don't have to worry about.




Transponder & ADF 1 came from CPFLIGHT. I ordered a Flight Illusion Transponder in Nov 2006 which was promised for March 2007 delivery, but never materialised. At the time of writing Flight Illusion are still not making a Gables Transponder. So it's off to my mate Paolo at CPFlight. CPFlight are so customer focused, it's a pleasure to deal with them. I also bought a second ADF which when it arrived was fitted as ADF1 because the operation is much nicer and the CPFlight ADF actually operates the Ident function where the Flight Illusion Radio does not.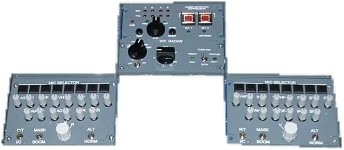 Audio, Cargo Fire and WX Radar Panels. These have come from COCKPITSONIC. First, I have wired them up to a 5v supply so I can operate the annunciation correctly and also by using switching diodes, i can also illuminate all the LED's on the Pedestal in a 'Test' or Recall situation. What I have actually done is this.... The Captains Panel controls the ON/OFF state of the Power Supply, Switches my headset microphone to either the Communication PC (for use on the Vatsim Network with Squawkbox) or to the 5.1 Sound system (for P.A. calls). It also controls the volume from the sound system, especially the sub-woofer for that added bit of 'rumble'. Both the audio panel Pushbutton sets (16 in total) have been connected to the OPENCOCKPITS USBKEYS amd BU0836 Card (I have also connected the Rear Overhead Audio Panel Pushbuttons to this card, adding another 8). This allows me to control Pushback (in all directions), bring up certain sub panels to check synchronisation and set certain systems, and generally control just about anything I choose without leaving the comfort of the captains seat. I have my preferences, you may choose to controil something completely different - how good is your imagination ? For a closer look at the quality of these panels, take a look HERE & HERE. Apart from the pushbuttons, I am not utilising any of the other controls on the F/O Audio panel yet, but i have the rest of my life :o)

Rudder & Aileron Trim & Cockpit Door Panel I got these from my mate MANOLO at HISPAPANELS. The Cockpit Door Panel is basically a dummy, i just switch the Annunciators correctly based on the position of the door control switch. But the Rudder and Aileron Trim are actually operational and work like this. I have setup the Throttle Quadrant to run on Leo BODNAR's amazing BU0836 Joystick Controller. After connecting all the Buttons I needed for the TQ, I still had plenty left. So the rudder trim control has been connected to 2 spare button inputs on the BU0836. Windows and FS see this card as a Joystick, so using FSUIPC, I have been able to assign the buttons as Rudder Trim Left and Rudder Trim Right (remember to check the button repeat while held box). I have done the same with the Left Wing Down/Right Wing Down switches. These switches are both spring loaded to 'centre off'. I have wired them so that you have to push both buttons in the direction that you want the wing lowered for it to operate. Again connected to the BU0836 card as Joystick Buttons and assigned in FSUIPC as Aileron Left/Right Trim.
Now I have got a 'real' type RUDDER TRIM KNOB from Nihad at www.simknobs.com

Fire Panel came from Symulatory in Poland. Annunciators are working in TEST modes
The Remaining Panels The Data Printer and the Selcal Panel are again basically dummies. They are the first panels I ever bought from COCKPITSONIC. All they really do is fill the gap cosmetically and illuminate when I do the Test. Blanking Plates came from MANOLO at HISPAPANELS except for 3 that i have cut quickly to cover the holes. I have ordered some more cover panels from Manolo and I can fit these when they arrive.



Backlighting Backlighting was relatively easy. Because I had an ATX Power Supply buried in the depths of the Pedestal, I had a ready available supply of 12vdc. I calculated that I had sufficient excess power to drive 10 small MES Bulbs. So strategically placed around the inside of the cabinet, I have placed 10 simple MES Bulbholders. As soon as the Power Supply is turned on - VOILA, not quite like Las Vegas, but excellent for what I want. And because of where they have been placed, bulb replacement will be easy. And to stop 'Light Leakage', just use Black Modeller's Clay (you know, your children have it in their toy box) to seal the gaps. Thanks to David Bullock for that.