It's surpassed all my expectations and I've learned so much. Well worth the trip.
Really was a WOW factor event.
++ James Hunt, Pontypridd, WALES ++
21st May 2008



I'm Just Blown Away! I was hoping it would be a good experience, but it 's better than i ever imagined. and thanks for teaching me about how it all works.
++ NICK CASON - NORWICH
3rd June 2008 ++

You obviously have put a lot of time and effort into this and i appreciate your time in giving me an insight into what lies ahead.
++ ROB KNIGHTON, ATC Technician EAST MIDLANDS AIRPORT (EGNX) 16th June 2008 ++
These were three Fun Guys who traveled all the way from Newcastle on Tyne. Left to Right: Ray Ewart, Sean Nixon and Jason Carling. Thanks lads, BEST GROUP VISIT Award
++ Geordie Flight Crew 1st July 2008 ++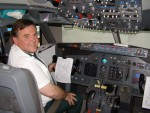 It's absolutely amazing. The feel and the peripheral views all add to the effect. Seeing it on the internet is just not like actually being here.
++ Gerard Rothwell
PORTHCAWL 9th Oct 2008
Here's a Chap who enjoyed himself !
It's Amazing ! I can't thank you enough for letting me fly your sim, what a great day! Thank you for the inspiration!
++ Stephen Tindale,TELFORD 19th December 2008 ++

Captain WARNER on his Checkride into BIRMINGHAM - He Passed :o))
Chris said: 'I'm Speechless, it's an amazing achievement and i've got to have one myself now'
++ CHRIS WARNER - PRESTON
31st January 2009 ++

'I just don't know what to say, it's absolutely amazing and I'm having nightmares of how much work I've still got to do'.
++ Military Helicopter Pilot (Retired) STEVE COZENS - February 18th 2009 ++

It's truly amazing, the visual appearance and the performance are so realistic. And thanks for sharing your experience. It was really great fun and very educational! It is not often you get to meet someone like yourself who really knows what they are doing and is willing to discuss it.
++ VINCENT MARREN - Trainee Commercial Pilot LONDON 12th March 2009 ++

Thank you for a wonderful experience today on your 737. My mind is now full of ideas to improve my own set-up. In Fact i'm going to change from a 777 to a 737 now after my experience today.
++ Brian POLLITT, FLEETWOOD
13th June 2009 ++


You have an amazing sim and it is a true credit to you and your achievements. It is a real pleasure to fly and i hope one day i will have one just like it.
++ Chris REDMOND, Flight Dispatcher EGAA
June 16th 2009 ++

What a great experience. I really enjoyed that. Makes a big difference controlling an Aircraft with realistic yokes and responses.
++ Richard HUTCHINSON
PETERBOROUGH 17th July 2009 ++

Thank you very much for your time. Chris and I really enjoyed ourselves. I think your sim has whetted his creativity to build a chopper sim.......we'll have to wait and see!
++ John & Chris PERRIN - ASHFORD Kent
3rd August 2009 ++
Three Aspiring Airline Pilots...Left To Right GARY KO,
RICHARD AVERY & ALEX GRALTON. Very 'Up There' Guys worked well together as a team. Did LPPT to LEMD and then LHBP to LOWI.
++ 9th September 2009 ++

Steve Mitchell was over to fly the sim at Halloween :o)) Steve used to own a Jet Provost. 'It's inspiring and very educational. I'm amazed at the level of system integration and technology you've achieved here'.
++ STEVE MITCHELL - MACCLESFIELD
31st October 2009 ++

Next Up, Harry Radford was here checking out the sim. Harry is just embarking on the long road to a sim.
'Absolutely stunning, what a great day and a great experience'
+ HARRY RADFORD - Newton Le Willows 20/11/209 +
Two Chums from Doncaster came for some sport 2nd December.
Richard said 'I can only say thank you so much for yesterday, you will never know how much we both enjoyed it. Awesome sim, true gentleman, fantastic day!
++ Richard MYERS & Simon CORISH - DONCASTER
2nd December 2009 ++

Steve Everson Came Over 19th Feb. to catch up on what I'm upto. Steve is a 737 Builder.
'It's Just Like Being Home' said Steve
+ Steve EVERSON - MILTON KEYNES - 19th Feb 2010 +
++ Two Real 737 Pilots Here 18th March 2010 ++
(L) Grant DOYLE (Ryanair) & Rob CASSIDY (Thomson)
Grant said: ' Absolutely amazing level of detail and I was wondering can i come back?'

I can't tell you how much I enjoyed visiting and the whole experience. And thanks for the way you explained everything so clearly.
+ Andrew LOHMAN 6th April 2010 +
Another Father & Son Team from LICHFIELD, Staffs.
John said 'Thanks very much today we were very very impressed! What you have done is a very realistic Flight Sim and we enjoyed every part of it'
+ John & Andrew CLISSETT - LICHFIELD 08/06/2010 +

My Pleasure to welcome our first Lady Pilot Today. Jean HANDLEY came Over from Ashton-u-Lyne for a Spin out of Manchester 23R
++ Jean HANDLEY
Ashton under Lyne 17th July 2010 ++

Ryan Ashmore (left) COVENTRY and
Liam Webb from HINCKLEY came over for a flight.
Ryan said 'Thanks for such a great day, we really enjoyed it.
++ 20th Sept 2010 ++

Pleasure to welcome Nicolas Hermansky over. Nick said "Great Fun, a fantastic experience to meet you (with your Mountain of Knowledge) and to attempt to fly the bloody thing"
Nicholas HERMANSKY
++ 9th October 2010 ++

Another PPL here October 26th. Russ Cooksey came in from Sheffield.
Russ said ' It's amazing, Awesome and thanks for giving me the opportunity to fly it' He wants to come back :o))
++ Russ COOKSEY 26th Oct 2010 ++

My pleasure to welcome another PPL Simon LUMMIS in from Peterborough.
Simon said "Thank you so much for your time and expertise. Wow what a great pit you have."
++ Simon LUMMIS 14th Dec.2010 ++

A total pleasure meeting you today, and an epic adventure to fly your incredible simulator. Thank you so much for the expert tuition, flight to Brussels, and the cups of tea!
+ Simon Lloydbottom Birmingham Dec.16th 2010 +
STUART RUTTER (Left) is going to Air Baltic and was here Monday and Tuesday to get some practise at RIGA. Then on Tuesday he was Joined by Cpt. PETER SMITH from Thomson Airways.
Stuart said " Sim is just fantastic, so realistic. Ian thanks very much for your kindness and hospitality. Hope to visit again as you make more improvements."
And from Pete "great training aid and super hospitality.
Again many thanks Ian."
+ Stuart RUTTER & Pete SMITH Feb.21 & 22 2011 +

Simon KELLY came in 5th March to Fly EGGD to LOWI. Simon works at Bristol Airport on the Systems maintenance Team. He said "Thank you for giving me the opportunity to have ago in your sim.

The journey was definately worth the effort. I Really enjoyed it"

++ Simon KELLY _ Chippenham March 5th 2011 ++

Andrew LOHMAN was in 6th April for a flight and to get the lowdown on cockpit building. He said "This is amazing and I'm going away all fired up to start building something"
Good For Him :o))
++ Andrew LOHMAN - COLWYN BAY - April 6th 2011 ++

All the way from the banks of the Danube, Peter SELMECI visited 7th & 8th May. Peter is an Approach Controller at Budapest (LHBP).
"The Sim is awesome and i have really enjoyed myself here this weekend"
++ Peter SELMECI - BUDAPEST - 7/8 May 2011 ++

Nice To Meet Up With Chris CLARKE who came over for a spin.
Chris said "Flying the sim was A Great Experience" Thanks Chris
+ Chris CLARKE - Stratford on Avon
22nd June 2011 +


Couple of Thomson Virtual Pilots were over 27th July. Chris HULME (left) & Ollie HALL (right). Chris is Cabin Crew for Easyjet, so he knew what was going on :o))
+ Chris HULME - LIVERPOOL & Ollie HALL - WREXHAM 27th July 2011 +

John PERRIN popped in on his way home with his 'wench'. So we had to put him thru his paces didn't we :o))
++ John PERRIN 24th Aug. 2011 ++

And then Simon CORISH was here to fly when he brought his overhead panel in for me to wire up.
Best Approach and Landing at Innsbruck i've seen :o))
++ Simon CORISH Doncaster 30th Sept 2011 ++




Two really Nice Guys came over 7th October. Mathew HEMMETY and Kieran TRUEFITT. Kieran is an Air Traffic Controller at Manchester Airport. Don't know why, but they wanted to wear the Seatbelts :o))
" We just want to thank you for the use of your sim the other day. It was a fantastic experience and very realistic, not to mention educational! "
++ Mathew HEMMETY - STOCKPORT (Left) & Kieran TRUEFITT - WILMSLOW 7th October 2011 ++


I came half way around the world to see this and i've enjoyed every minute of it. Seeing BOEING aircraft everyday, I have this sense of Deja Vu and I've learned so much about simulation.
++ Chris Danker - KLM Maintenance Manager, KUALA LUMPUR, Malaysia
31st May 2008 ++

What an enjoyable experience. It's quite an achievement. It certainly is your ethos.
++ GARETH EVANS, Glyn Ceiriog
14th June 2008 ++

I'm so impressed with this. All the systems and proceedures, I can see why the Pilots have to go through such extensive training and evaluation.
++ Reg JONES, Engineer, LINDSTRAND HOT AIR BALLOONS Ltd
22nd July 2008 ++


I've been in a Commercial Simulator and I can't tell you how realistic and immersive yours is with everything working. I absolutely have not had such a great day in ages. you have done full justice to the 737NG !!
++ ANDREW CARSON - LIVERPOOL
28th July 2008 ++

Two Really Enthusiastic Guy's Today.
Capt. Brendon Gibbons & Capt. Trevor Fielding of GO AIR UK.






We want to build our own Cockpit and this has given us the inspiration to go forward... BRENDON GIBBONS & TREVOR FIELDING
++ 6th September 2008

Left to Right above: NIGEL DOYLE (Aylesbury),
SIMON NEWMAN (Chatham) and DANIEL GREEN (Leighton Buzzard).
++ 13th December 2008 ++
Nigel said 'Apart from the cockpit which was truly amazing, I have seldom met anyone more generous with their time. Your enthusiasm has certainly boosted mine considerably to move forward, you are truly a Jedi Master of the cockpit world!'


++ RYANAIR Captain CHRIS INGAMELLS 18th Feb 2009 ++
'It's astounding how accurate the cockpit operates and the level of appearance and systems integration you have achieved. I'm really impressed'.
(Coming from a Professional 737 Pilot, I take that as a real compliment and he really pushed it to the limit :o)) - IAN)

My Friend and Colleague Dougie Vivers who was absolutely stunned with it. This is the only photo of him not dribbling :o))
++ Dougie Vivers - POWYS 26/02/09

I'm astonished at the simplicity of your approach to the programming. Now I understand your ideas. Excellent Sim which has given me lots of ideas.
+ JOHN O'QUIGLEY LONDON 12/03/09 +

I'm Simply Speechless. Your setup is so inspiring I can see a long road ahead of me. And thanks for teaching me so much.
+ ANDREW WALL - BINGLEY, Yorks. + 20/05/2009

Your approach is definitely the way to go for me. I already have the Hardware so now i need to get building
++ Jason DELL FLEETWOOD 13/06/09 ++

I just love your cockpit and I don't want to leave. A great experience, thanks.
++ GLENN SCOTT - EGAA Employee
Belfast - 16th June 2009 ++

Totally Speechless ! It is such an Immersive and Intense Experience having to control such a sophisticated aircraft.
But at least it's set the standards for my own build.
++ PETER WILSHIRE - ALICANTE - Spain
9th July 2009 ++

Two Chums All the Way From BOSNIA. Emir HOT (Bosnian Recording Artist from TUZLA - Right) and Irhad Durakovic (ATC at Sarajevo. This is the man

you talk to going into LQSA). 'Thanks for a great time, we are so impressed'
++ Emir HOT & Irhad DURAKOVIC Bosnia 28th August 2009 ++

Film Maker ALEX HODGSON was here filming the sim for a TV Documentary.
'What an Achievement, it looks absolutely perfect and thanks for letting me come and use and film it. Can I come back?'
++ALEX HODGSON 10/09/2009
Hangar9 Film Co. ++


737 First Officer Robert CASSIDY (Right) and ATPL Jamie KNIGHT (Left)
Pleasure to meet these two. Robert taught me such a lot about using the CDU for things i never thought about.
Robert said ' You've got it just right and it was great fun to fly'
++ 737NG First Officer Rob CASSIDY & ATPL Jamie KNIGHT
14th September 2009 ++

Ship's Captain & Microlight Pilot Roger HARRIS was in. Roger is just starting out on his build & came for a few tips.
'What an amazing experience, a fantastic day and I learnt a lot which is going to help me enormously'
++ ROGER HARRIS - BRIGHTON
14th November 2009 ++

Back for the Return Flight, The Geordie Flight Crew. L to R: Ray EWART, Sean NIXON and Jason CARLING.
Sean said 'Always a great day and always made to feel welcome. Canít wait til next year'
++ The GEORDIE FLIGHTCREW Dec. 11th 2009 ++


Absolutely Delighted to Have the First Ever Visitor from the United States, Tony Winslow. 'It's awe inspiring, i'm simply speechless, so realistic'.
From that, i take it he liked it.
++ Tony WINSLOW - MONUMENT Colorado United States 23/12/2009 ++

ROGER HARRIS Came Back Again for a Second Shot at it.
Thanks again for the visit - I would not have believed it, but the second visit was better than the first! I cannot say how interesting and informative the simulator is.
++ March 5th 2010 ++

'It's absolutely amazing what you've done here and i'd love to bring my son to see it'
++ Ben DALE - SWEDEN 25/03/2010 ++

Here's a chap who had a Good Time and went away smitten :o))
++ Ian POUTNEY from BOSTON, Lincs
26th March 2010 ++


Father and son Team in 3rd June 2010.
+ Ali & Hamdy AMER
CAIRO - Egypt
3rd June 2010 +

Gerard Rothwell was here this week collecting the rudder pedals.
" I really enjoyed it and learnt so much. I think it's brilliant that you share everything with the flightsim community"
++ Gerard ROTHWELL Porthcawl
30/06/2010 ++
Richard Avery & Alex Gralton came back for a second shot at the sim.
Richard said "We were both impressed by the new TQ and would love to visit again to see the developments in the pipeline ++ 15th Sept 2010 ++
The Aussie Team arrived all the way from PERTH Western Australia 30th September. Gwyn Perrett and his lovely lady Leonie. Gwyn is convinced I didn't build this, he thinks i just cut it off the front of a real 737NG :o))
++ Gwyn Perrett & Leonie 30th September 2010 ++


The SHED Lads. Lee ELCOCK & Ian HAYES came over for a fly.
Lee said "Thanks for your hospitality today. To sum it up in one word is impossible so ill do it in two..."Fu$$ing Amazing!!"
++ Lee Elcock & Ian Hayes - TELFORD 12/12/2010 ++

Because we have been 'down for maintenance', here's the first visitor of the year. Nick HERMANSKY was here 20th Feb 2011 for a bash into Innsbruck.
Nick said 'Such a great day, many many thanks! i also really appreciated you teaching me about CDAs afterwards, you learn something new everyday! one to practice i think....:) Again, thank you so much for the experience!
++ Nick HERMANSKY - 19th Feb 2011 ++

RYANAIR F/O Grant DOYLE (Right) came over for some Practise to get ready for his Sim Check out of Liverpool. And he brought two colleagues to 'Have a Go'. Adam BINKS (Left) and James ORMEROD
Grant said "Thanks for an amazing day"
+ ADAM, JAMES & GRANT Feb.24th 2011 +

Saturday saw the 7th visitor this week, Jonathan LOCKTON from Peterborough who was absolutely flawless.
Jonathan said "I've been in one of those 737 Experience Simulators and it didn't even come close to this"
++ JONATHAN LOCKTON - Peterborough - 26th Feb.2011 ++


Pete DEEHAN (left) was here with F/O Robert CASSIDY doing a bit of 'practise' for Pete's upcoming Interviews.
Pete said "I had a great day and really appreciate your fantastic hospitality, it was well worth the long drive and it was great to meet you"
++ Pete DEEHAN (Rotherham) & Robert CASSIDY (Ashton u Lyne) 22nd March 2011 ++

Steve Everson was here 4th June to see how i'm getting on with Prosim, so we had to have a 'jolly' didn't we.
"This really is amazing" said Steve
++ STEVE & VICKY EVERSON - MILTON KEYNES - 4th June 2011++

Then James & Camilla WARD were here on the 6th June to check out the Sim.
All we got out of James was " I'm speechless, far better than I ever imagined"
+ James & Camilla WARD - CAMBRIDGE - 6th June 2011 +

Ex Air200/First Choice/Jet2 Captain Neil HEATHER came for a play 4th July.
Neil said: " It really is an amazing cockpit. So, much like the Real Thing "
+ Neil HEATHER - Wirral 4th July 2011 +



I must have had the entire staff of Manchester Airport here now. :o)) Two more chums in 22nd August.
Tony DALE (Security) & John QUEEN (Car Parks) were over 22nd August for a play.
Tony said "thank you very much for a very enjoyable experience in your Sim" Guess he liked it then :o))
++ Tony DALE (Left) & John QUEEN - Manchester Airport
22nd August 2011 ++

Denys CLARKE was in all the way from Queensland Australia. Denys was heard to say: 'I think it's absolutely brilliant and I have so enjoyed myself flying it. To see and pilot your 737 was the highlight of my visit to the UK'
++ Denys CLARKE Queensland Australia 25th Aug 2011 ++