FUNCTIONS AVAILABLE WITH THE PMDG 737

- Nav1 Course
- Flight Director
- Autothrottle / Speed / N1
- Master Autopilot Switch
- Speed/Mach Selector and Display
- Speed Change Over Button
- Level Change
- Heading Selector and Display
- VNAV Selector Button
- LNAV Selector Button
- VOR/LOC Selector Button
- Approach Selector Button
- Altitude/Flight Level Selector and Display
- Vertical Speed Selector Button and Display
- Vertical Speed Adjustment Control
- Command A and Command B Selector Buttons
- Control Wheel Steering A & B Selector Buttons
- Autopilot Disengage Lever
- VOR2 Course Indicator
- Now also with SPD and ALT Intervention too !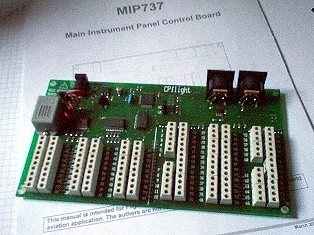 I've also got the MIP737 Expansion Board hooked up communicating with the PMDG taking inputs and giving me outputs to MIP Annunciators. Functions this board gives me are:

- Below Glideslope on both sides of MIP
- Flaps In Transit
- Leading Edge Flaps Extended
- Gear In Transit (Red)
- Gear Down (Green)
- A/P Disconnect (and Reset) Flashing Red
- A/T Disconnect (and Reset) Flashing Red
- FMC Message (and Reset) Amber
- Autobrake
- Spoiler, Do Not Arm/Armed/Extended
Also connected to my MCP737 is the MCPEX1. This little beauty offers you 64 inputs for switches, pushbuttons or potentiometers. It also has the ability to let you assign functions to 10 digital outputs to light annunciators when an action occurs.
With switches & pushbuttons, using the MCP_CONF, you can assign their action form a dropdown selection of many of the common FS functions, send keys and get them to repeat.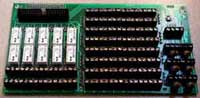 The Digital outputs can be assigned to several of the more common FS Functions like Gear Transit, Gear Down, Parking Brake or if you're feeling really brave, you can write your own 'variables' in the program. This board is is now lighting my Eng Vales and Spar Valves Annunciators on the overhead (based on the position of the Idle/Cutoff Levers).
- 64 Digital Assignable Inputs For Switches, Pushbuttons etc
- 10 Digital Assignable Outputs to Light Annunciators
- Analogue Inputs for Potentiometers (Throttles, Flaps etc)