Here's a clever Idea, a Coded Switch which only contacts in the direction of rotation. So an easy way to get round using encoders. Here's the Data Sheet





Rotary Encoder


Get These From Sure Electronics on ebay HERE. They work a treat with the BU0836X board set at 1:4.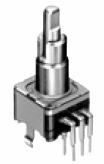 ALPS EC11EBB24C03
Dual Rotary Encoder
(DATA SHEET)




ELMA E37 Dual Rotary Encoder
Get Them HERE
(DATA SHEET)
And This is How You Connect Them




Standard Switches




Toggle Switches
for Under £1 ($1.50)




Rotary Switches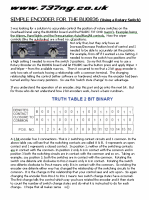 Simulate An Encoder With A Rotary Switch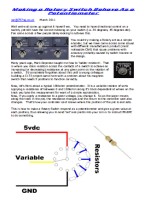 Simulate a Potentiometer With A Rotary Switch


Push To Make Switches




Variable Potentiometer


Slide Potentiometers


Multi-Turn Potentiometer


Variable Resistor
(Potentiometer)


Power Supplies




MES Bulbholders




12v MES Bulbs


Switch Guards
Got mine off e-bay, cheap and real nice quality.


555 Timer Chip
Example of Timer Circuit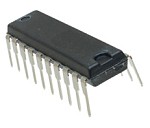 PIC Programmeable CHIP. See what you can do with them at
PICAXE or MICROCHIP
or MATRIX MULTIMEDIA


PICAXE AXE50 Tutorial Board. Cheap way to learn about PIC's
Here we will be looking at common components and trying out a few ideas to cover solutions to problems we find in trying to get FS to do something.
Also lighting control, cabling, wiring and examples of switch circuits.
Any ideas welcome.


Long Paddle Switches-Get Them from MOUSER
here's the Data Sheet


Driving Two Inputs From One Rotary Encoder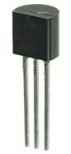 BC237 Transistor
NPN


Using Transistors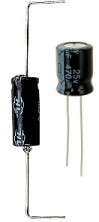 Electrolytic Capacitor




Carbon Film Resistors




Diodes I use 1N4001 for controlling power and 1N4148 on switch circuits




LED's
LED's are cheap on e-bay. Click HERE


You can get them pre-wired or even Wide Angle for a better distribution of the light.


7 Segment Display
We've used RED Kingbright
SC36-11EWA
Datasheet HERE
and GREEN
LUCKY LIGHT
KW1-361CGA
Datasheet HERE


IDC Plugs & Sockets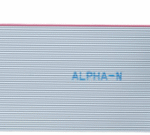 Ribbon Cable


Terminal Blocks


STRIPBOARD
Stripboard Plan .pdf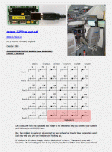 How To Make A Matrix For The BU0836 Card


Relay


Project Boxes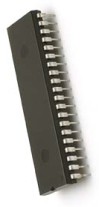 PICAXE 40X2 PIC